Use browser back button to return to this page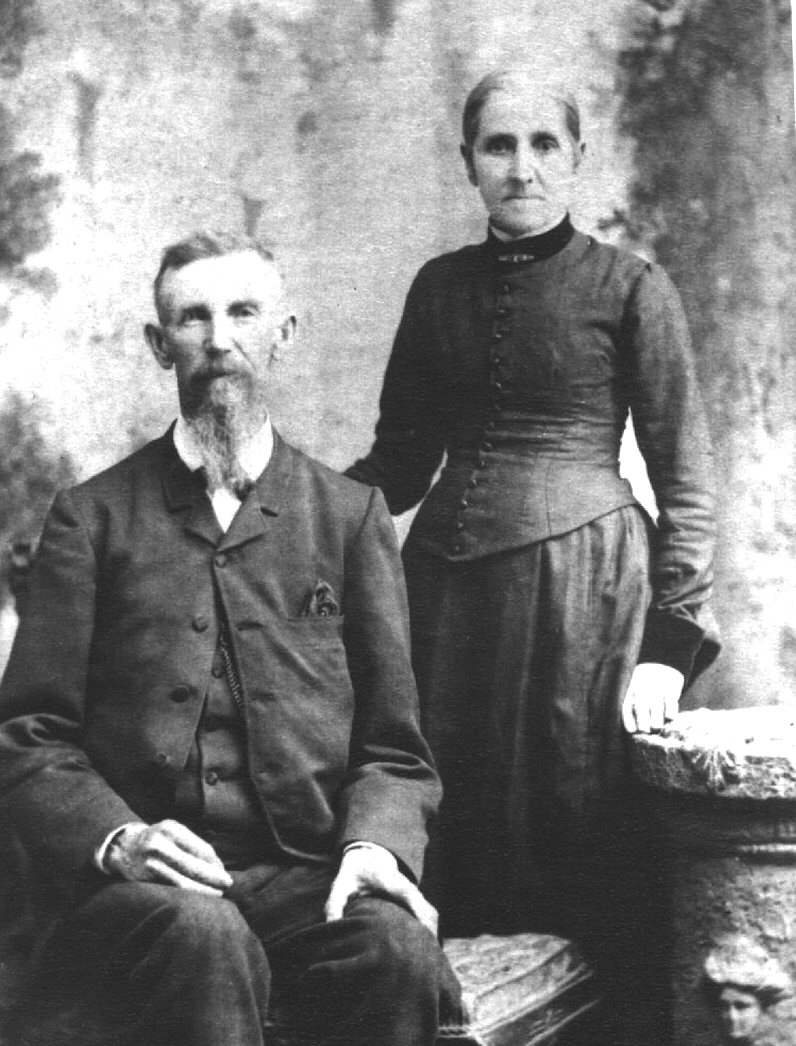 *Photo*

Solomon Martin and Jerusha Malbone

Cousins - Married 14 Feb 1843

Grandchildren of

Charles Malbone (1755)

Great Grandchildren of

Evan Malbone (1718)

news.nnyln.net

NEWSPAPER ARTICLE:

Thursday, August 6, 1903

Elizabethtown, NY

POST AND GAZETTE

Title: History of the Malbone Family by Dr. M. E. Bishop.

South Haven, July 20.

I will try to give you a history of the people that came to this town

from Essex Co. I will, for certain reasons, begin, with the Malbones

who came from Wilmington.

Solomon Malbone who died here last year at the advanced age of 84

left Wilmington in either 1842 or 1843. He came first to Columbus, Ohio,

and purchased a farm a few miles from the city, and lived there till

1875 working the farm, and following his trade as a mason.

When he came here he bought a small farm two miles south of the

village and worked a part of the time at his trade.

He had three sons and his oldest son John learned his father's trade.

They built the foundation and cellar under the house I bought as this village

was when I came here a sawmill town and but few buildings had

foundations except wooden blocks.

John Malbone bought some land near his father's place. He

cleared it and went to raising fruit, principally strawberries at first.

He was so successful with the berries that the net profits for several

years were $3000 a year. Then he bought twenty acres more of land

and set it all out to strawberries. But strawberry culture was overdone,

the finest kinds brought only half a dollar a case of sixteen quarts.

Then Mr. Malbone mortgaged his farm, came to Town and went into

the hardware business, leaving his four sons to run the farm. He did

so well that the sons are now all in town with their father in business

under the firm name of Malbone and Sons.

They own one of the finest blocks in town, 75 feet front, and three stories high.  It is divided into three parts. The middle part for general hardware, one part for stoves, tin and hollow ware, and one part on the other side for furniture and house furnishing.

The old gentleman, Solomon Malbone, always took the Essex County Republican and when he and his wife came into town she would call on us and bring a copy of the paper. I shall send the old lady a copy of the Post

and Gazette once in a while 

NEWSPAPER ARTICLES

Mentions of Malbone Individuals

news.nnyln.net

NEWSPAPER ARTICLE:

March 19, 1903

Elizabethtown, NY

POST AND GAZETTE

[Excerpt]

Mr. Charles Thayer is a descendant on his mother's side from the famous Malbone

family of Rhode Island. His grandfather, Charles Malbone, was born at Newport. He was one of the pioneers of Wilmington, and being an educated man, unused to manual labor, it is said that his awkward  attempts in that new country at felling trees and milking cows were subjects of amusement and derision by his more practical neighbors. His daughter Nancy was born at the town of Coventry, Conn. She went in her youth to the wilds of northern New York. Marrying Apollos. She became the mother of Charles Thayer ...

news.nnyln.net

NEWSPAPER ARTICLE:

Thursday,  Sep 10, 1903

Elizabethtown NY

POST AND GAZETTE

Title: Another Interesting Letter from Dr. Bishop.

        South Haven, Sept. 2, 1903.

Dear Friend Brown:

The business of tracing the history of families becomes very interesting

and shows how extensively your paper is read. If you keep on you

will become as famous as the Danbury News man.

I interviewed Mr. John Malbone today and he said Mr. Thayor was

right about Solomon Malbone who went to Franklin Co., Ohio, and

died comparatively young, leaving a son named Solomon Martin

Malbone who went back to Wilmington when a young man, and in

1842 went back to Ohio again, and from there here in 1875.

So you see Solomon Malbone was John Malbone the merchant's grandfather.

Mr. Malbone was much pleased with the article about the "Malbone"

of Newport, R. I. He said that a young man ran away from home in Queen

Anne Co., Va. This was many years ago, and for a good many years his

people did not know what had become of him, till at last they heard of him as

living at Newport. R. I. The young man's parents name was Malbone,

John Malbone has corresponded with some of his ancestors now living in

Queen Anne Co., Va., and learned that the story of the Newport Malbones

being half pirates and merchants was true.

One can see that I have been able go a little farther back in the history

of the Malbone family than Mr. Thayer.

news.nnyln.net

NEWSPAPER ARTICLE:

Thursday Aug 27, 1903

Elizabethtown, NY

POST AND GAZETTE

Title: More About the Malbone Family.

August 23, 1903.

Frinnl Brown:

As I count the Malbones among my ancestors, I was very much

interested in Dr. Bishop's letter, published in the Post on the 6th last.

My father, Charles Thayer, of this city, is a son of Nancy Malbone

Thayer, who was a sister of Solomon Malbone.

Father was born in Wilmington in 1823, and lived there until 1882, and

has a good knowledge of his family history.

He says that Dr. Bishop has made a mistake in his letter. His version

is: That Solomon Malbone went west from Wilmington and died

many years ago, a comparatively young man, whereas Dr. Bishop

says he "died last year at the advanced age of 84." He further says that the

father of John the strawberry raiser and merchant was Martin Malbone,

son of Solomon.  (note: True name is Solomon Martin Malbone.)

Martin Malbone was born in the west. He came to Wilmington a

young man. While there he married his first cousin, Jerusha, daughter

of the late John Malbone. He returned to the west with his wife

about 1842 or 1843.

Martin Malbone may have been named Martin Solomon or Solomon

Martin, or known by one name in the east and the other in the west.

We would like to hear what the good Dr. has to say in regard to

this correction or interpretation.

Enclosed you will find an item that I clipped from one of our local

papers, that may be of some interest to readers of the Post:

"MALBONE" IN THE MARKET.

Historic Newport Mansion Dating

Back to Colonial Days.

Newport. R. I, Aug. 12. Yesterday day one of the oldest and nicest

estates in Newport were put on the market for sale. It is known as

"Malbone," and was built in 1742 by Col. Godfrey Malbone, a wealth

merchant of Newport. Here was a garden of many acres, wherein grew

the choicest fruits that could be found in Europe.

In the war of 1740 between France and Spain he fitted out several

private armed vessels of war, which made important captures. 

In the summer of 1766 the house was destroyed by fire. Mr. Malbone died

In 1768,  and was buried under Trinity Church.

Later the property came into the hands of J. Preseott Hall

of New York, and another fine mansion was erected. and afterward

was purchased by the present owner, Henry Hedlow. This is

probably one of the most historic mansions in America.

When a boy in Wilmington I often heard my grandmother relate inci-

dents in the life of Col. Malbone and heard from her the story of this fine

mansion.

The Col. and other members of his family at the time, were said

to have been half merchants, half pirate. He was a bachelor,

eccentric, very wealthy, and very homely.

It is said that after he had completed his mansion he caused to be

inscribed over its front entrance

'See What Money Can Do."

Some wag of the time wrote underneath

"All the money in this place,

Can't buy old Malbone a handsome face."

It is said that on the day the house was burned Col. Malbone was

giving his guests a grand dinner. The tables were set upon the

lawn, or else ho had the servants carry them therewith their contents

after the fire started. When it was well under way the host surveyed

the scene and remarked that although they could not "save the house they

could not afford to lose their dinner." So, leaving the mansion and its contents

to the firemen and the flames, he continued to help his guests to the roast duck

and the wines.

Upon the occasion of my first visit to Newport some years ago, I

sought out the spot of which I head such wonderful stories when a boy.

by the fireside, winter evenings, on the hills of Wilmington.

CORWIN M. THAYER

Worcester, Mass.

Mentions of Evan Malbone (1747)  Son of Evan Malbone (1718) and brother of Charles Malbone (1755)

Source: Article: Windham Herald, December 1794

  373. WH Sat Dec 20, 1794:  For Sale. A farm, lying in Pomfret, comprising about 280 acres of good land, well watered, with buildings thereon, well proportioned for plowing, mowing and pasturing.  It needs no further recommendation than to say that it is one of the MALBONE farms.  It will be sold all together, or in two parts, as will best suit the purchaser.  For particulars, enquire of Col. Cleveland, of Canterbury, or Aaron Cleveland, living on the premises.  December 9th, 1794.

Source: Article: Windham Herald, February 1795

  430. WH Sat Feb 21, 1795: To be sold, A good Farm, containing one hundred and sixty acres, situated about a mile north of Gershum Brigham's tavern, in Coventry, on the main road from Boston to Hartford.  Fifteen or twenty acres of land, with a house &c.  thereon, would be received as part pay.  Any person inclining to purchase, may know the terms by applying to Evan MALBONE, of Pomfret.  February 11, 1795.

Source: Long Island Star - Brooklyn, New York, March 30, 1830

Obituary

  Died in this village on Sunday last, Captain Evan Malbone II, age 83 years.  A native of Newport, RI, of the distinguished family of Malbones, early established in America in Virginia and Rhode Island.  Captain Malbone was for many years a member of the Legislature of Connecticut, a member and supporter of the Episcopal Church in that state.. 

  No man while in the possession of a handsome fortune ever more freely imparted to the calls on personal friendship and to the encouragement of public improvements.  No man bore with more manly and philosophical fortitude the unrelending tide of adversity that swept away his last surviving sons at  the prop of his declining years, the only remains of a once large, healthy and florishing household.

news.nnyln.net

NEWSPAPER ARTICLE:

Thursday, June 14, 1923

Elizabethtown Post, Au Sable Forks, NY

A Native Strenuously Objects to

the "Meaningless, Improper

and Illegal" Markers

Editor The Adirondack Record- Elizabethtown Post.

Sir:

Some of us who sprang from that soil, would like to inquire by whose

authority those meaningless, improper and illegal signs were erected at either end of that beautiful Wilmington way?

There would seem to be other names worthy of consideration besides those mentioned by the lady correspondent, Clara Merrill. Jonathan Thayer was one of the first settlers and property owners on that road, buying his land on both sides of the road, direct from the state, and being its first individual owner. He built a house there that is standing today, having lately been acquired by Messrs. Everest and Blair.

Jonathan Thayer had a daughter who became the wife of the late Roger

Hickok. Hickok and his wife passed their last days at the old Thayer home, and dying, left numerous descendants in Wilmington.

Johnathan had a son, Gilbert Thayer, who in his prime became principal of Keeseville Academy. Jared Thayer was another early settler on that road, and his three sons grew to manhood there. He and his wife Betsey Baxter lie buried in the cemetery west of Wilmington village.

The writer's grandfather, Apollos Thayer, was one of the early settlers

and business men of Wilmington. He owned a farm and home on that road where he lived for many years, and where he died. When war came he shouldered his musket and marched to protect that road. He was in Major Sanford's company that helped to repel the British invaders on the field at Plattsburg.  He and his wife Nancy Malbone, a sister of the late Charles and the late John Malbone sleep in the

so-called Haselton cemetery.

Apollos Thayer's son, Charles Thayer, my father, was a native of Wilmington. He lived many years of his life there, held numerous town offices, being supervisor for two terms. He owned two farms and built and occupied with his family two houses on that road, that still stand. He sold one of the farms in March, 1862, to Isaac and Mary Torrance,

his wife. The place is said to be owned now by George Smith.

When Charles Thayer's ancestral home was burned, he built on the same site the house now owned by Michael Smith. The Smiths are now or late of "Springfield," Mass. My mother, Charlotte Mihills, wife of

Chartes Thayer, gave birth to eleven children on that road, two daughters

and nine sons. One girl and two boys died in infanc\-. The other daughter

grew to womanhood, and is the wife of an official of this city. Four of her

sons, my brothers, in their early manhood, were at the same time members of the Worcester, Mass., police force. One died in office, one after ten years' service resigned, another became a detective

lieutenant, of this city, an office he has held for many years. The other

was for several years chief of police of Fitchburg, Mass.

The writer is a native of that road and knows every inch of the_way, for

he was born in the kitchen of the old Johnathan Thayer farm house.

Instead of giving this beautiful way the name of some city in Massachusetts or Illinois, would it not be fairer, and more appropriate to give it, as has been written, "In loving and respectful memory the names of those who occupied this territory years ago, and passed it on in all its glorious beauty?"

Corwin M. Thayer

City Hall, Worcester, Mass.

news.nnyln.net

The Essex County Republican,

March 5, 1943

History of the Towns of Essex County

As Compiled By

GEORGE H. SMITH

Town of Wilmington

  The township of Wilmington was taken from the town of Jay on March 27, 1821.  It was first called Danville where the Merrils, the MALBONES, and the Hills came from in Vermont.  The Post Office Department started on account of a similar post office being established, namely Dansville in 1796 in your state.  The townspeople met to change its name.

  On the first Tuesday in April 1821, the first town meeting was held at the tavern of Reuben Sanford.  Thomas J. McLeod was chosen supervisor of the town.

  The territory covered by this new township comprised all that land west to the present Franklin County border and north to the Clinton County line.  It wasn't until 1844 that St. Armand township, the west part of Wilmington township was formed.  Due to the division of towns, Wilmington from Jay and St. Armand from Wilmington, the residences of the early settlers are somewhat confusing.

  A petition was made by the people to change the town's name from Danville to Wilmington.  The Halls, the Pierces and the Nye's had come from Wilmington in Vermont.  The petition was enacted upon by Act of Legislature and passed march 22, 1822.

  The surface of the town is rough, elevated and mountainous.  A valley runs from the southwest to the northeast.  The soil is sandy and gravelly loam and was at one time very fertile and productive and extensively cultivated.  In the west part of the town rises, the majestic White face Mountain; 4872 feet high; just north of this is Esther mountain, 4270 feet high.  On the Westside of the town is the noted Wilmington Notch, a narrow pass between 200 feed high perpendicular cliffs and through which runs the west branch of the ausable river.

  The first known settler to come to this locality to stay was called Paul Thayer from Rowe, Franklin County, Mass.  He purchased a tract of land cleared in of trees and built a log cabin.  He returned to Massachusetts, brought back farm implements, horses and cows, and became the first farmer in Wilmington.  This was in the year 1799.  His son, Appolos, born July 8, 1787 in Rowe helped clear the land although only 12 years old. 

  The next known settler, John Malbone, came in town right after Thayer, 1799, with his family and established a farm.  Malbone originally came from Rhode Island but subsequently moved to Coventry, Conn.  Here his daughter Nancy was born, and who married Appolos Thayer later.  Malbone first moved from Connecticut to Vermont, where his brother Charles was located.  But the urge to move on got the better of him and he came to Wilmington.

  Thaddeus and Leonard Owen came in town the summer of this same year and established a farm near the village.  They were closely followed by John Blanchard, Hiram Storrs, Daniel Hamblin, Daniel ray and Elias Wilson.

  The Methodist Church Society was formed in the late fall of 1799, but was not affiliated with any church circuit.  The society here was comprised of four members and meetings were held in various dwellings for over two decades.

  In the year 1800, Charles Malbone came over from Vermont and established on a farm.  Two years later he was followed by Walter Warren from Vermont and David Peck from downstate New York.  Others to come in during this time were Charles Hays, Isaac Peck and Cyrus Wilson. 

  It may be said here that many settlers came in town and settled on farms that are not mentioned here.  But the ones herein mentioned are from census records of the New England States and new York, also county histories.


fultonhistory.com

Keyword: Charles Malbone

Newspaper:  Evening Journal [Albany NY], 1876

The people of the state of New York, by the grace of God free and independent.  ___ Evan Malbone, Mary, wife of Isaac Torrance, Armelia, wife of John Miles, Charles Thayer and Elijah Thayer, all of Wilmington, Essex County, N.Y.: Sarah, wife of VanBuren Miller, of Harrietatown, Franklin County, N.Y..: Solomon Malbone and Jerusha Malbone, his wife, of South Haven, Van Buren County, Michigan; Bateman Hawley, of Comstock, Kalamazoo County, Michigan: Charles Gibbs and Elizabeth Gibbs whose places of residence are unknown and cannot on ____ _____ be ascertained; and to all others, heirs and next of kin of Charles Malbone, late of Wilmington, aforesaid, deceased, whose names and places of residence are unknown and cannot on diligent enquiry be ascertained send greetings:

Whereas, the American Home Missionary Society, a body corporate under the laws of the state of New York has lately applied to our surrogate of our county of Essex for the proof of the will of Charles Malbone, late of Wilmington, deceased, which said will relate to both real and personal estate: you and each of you are therefore ______ required to appear before our said surrogate at his office in Elizabethtown in said county on the 5th day of June next, at two o'clock in the forenoon, and attend the probate of said will.

  In testimony whereof, we here caused the seal of office of our said surrogate to be hereunto affixed.  Witness, Byron Pond. Esq., surrogate at Elizabeth town in said county of Essex, this 19th day of April in the year one thousand eight hundred and seventy-six

    Byron Pond, Surrogate  _____ Hale, Smith & Hale proprietor ________